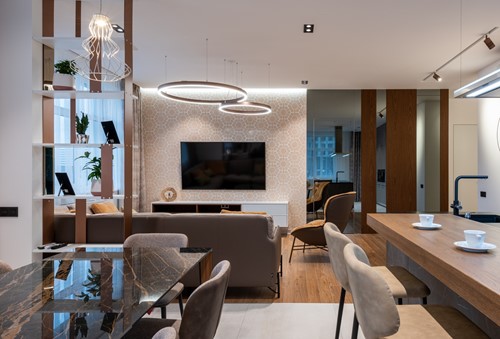 Sometimes decorating a large room is difficult. With so much space, knowing how and where to arrange furniture and accessories can seem daunting. One thing that can make the process easier is dividing the space in half or into smaller pieces. Rather than call your contractor about building a new wall, we've gathered some easy and inexpensive ways to divide up a room.
Shelving Units
Backless, cubby-style bookcases are a popular trend in both storage and interior design. One of the best things about them is that they allow partial visibility to whatever is behind the shelf. If you put a shelving unit like this in the middle of a room or perpendicular to a wall to create a corner, you can define the space without cutting off airflow or light. This will also keep both parts of the room connected, but comfortably separated.
There are plenty of choices for shelving units to divide a space, but you can also create a bolder division by using a bookcase or shelving unit with a back or two sides. Floor-to-ceiling modular bookcases make a solid definition without adding an actual wall. Whichever style you choose, you'll appreciate both the definition it adds to the space and the myriad options for storage and decoration.
Indoor Trellis
Trellises have ever been a popular and simple way to divide an outdoor space or add privacy. However, using a trellis indoors can be just as helpful. Houseplant lovers can encourage climbing or trailing plants to cover the trellis with natural greenery and liven up the space while creating depth. Those who prefer not to keep live plants can also use artificial vines to mimic the same outdoor look.
A trellis can also make a bold statement all on its own. Try staining a wood trellis with a rich, dark mahogany color or even black paint. You can also opt for a metal trellis for a more industrial angle. Regardless of whether you use plants, an indoor trellis can divide up a space easily and inexpensively.
Rug Placement
Not every room divider has to be vertical. In fact, strategic placing of area rugs can make an enormous difference in the flow and structure of a large space. If you want to define two specific areas, for example, place two different rugs with space between them. The empty floor space will create a natural division that's unobtrusive and easy to change if necessary. This method works especially well for separating a living room from a dining room or office nook.
You can use rugs of different sizes, colors and styles to make an even bolder separation. However, keep in mind the scale of the space and the furniture. You don't want to go too far and make the space feel crowded by using too many oversized pieces.
A large space is like a blank canvas and sometimes it's hard to know where to start. One of the best things you can do to help solidify your decorating and design plans is to divide up the space. Using these tips you'll be able to section off a large and intimidating space into manageable pieces with specific functions and aesthetic. Best of all, without building an entirely new wall, you can save money and give yourself the freedom to change your layout in the future.