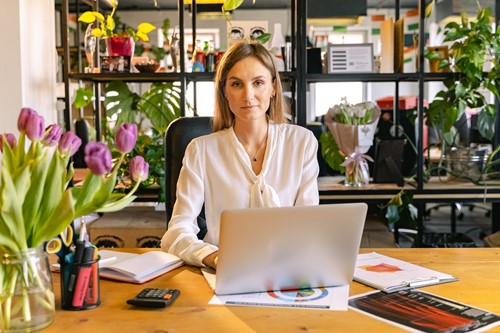 Creating the perfect work environment at home is crucial for helping you stay productive and comfortable in your work life. Your home office also provides a perfect opportunity to design and decorate a space that's completely your own. If you're not sure where to begin, here are some of the top trends for home office design to help inspire you.
Turn Up the Comfort
With a home office, you have the chance to create your own workspace and make it as comfortable as you want. While not everyone has room for an entire sofa or overstuffed armchair in their home office, comfortable accents can go a long way. Try including a thick throw blanket either hanging over the back of your desk chair or on a stylish blanket ladder. You could also add coziness with a plush area rug, candles and houseplants.
Lighting also plays a huge part in the overall comfort of an interior space and is especially important for home offices. Your workspace should have ample lighting to assist you in comfortably carrying out your tasks and staying productive, but instead of bright white fluorescents opt for soft white LED smart lightbulbs. Many have multiple light settings to adjust throughout the day or to set a specific comfort level in a room. Adding multi-step bulbs to main fixtures and lamps is a simple way to indulge in the cozy office trend.
Use Your Wall Space
From storage to pure decoration, there are plenty of ways to use extra wall space in your home office efficiently. One emerging trend is decorating your walls with modern technology and practices in mind—namely video conferencing. Creating dedicated Zoom backdrops for your video calls gives you a unique opportunity to show off your personal style while in the virtual workplace. Floating shelves and bookcases with your favorite office decor and attractive trailing houseplants make a great background without causing a distraction. If you prefer a tidy look, hide your storage behind cabinet doors or curtains.
One important thing to note when creating a dedicated backdrop is to consider your lighting. As tempting as it might be to show off the beautiful view outside your window, avoid facing your webcam toward the outside unless you have another light source. Without a desk light or another option to light your face, the natural light from the window can make you nearly invisible on computer screens. Besides attractive backgrounds, dedicated lighting for video conferencing is another trend that's likely to endure.
Many design trends come and go, but the ones that follow changes in lifestyle will stay awhile. With more and more people working from their home offices, workspace design is more popular than ever. These are the hottest trends we're seeing in home office design that you can use as inspiration for your office setup.