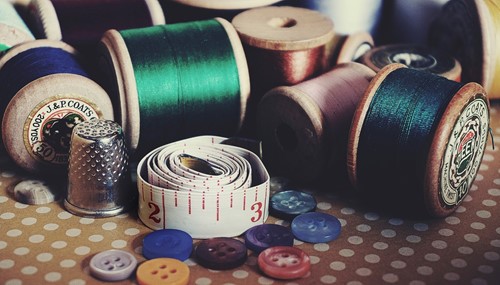 Sometimes the most efficient storage and organization solutions are right in front of us. You may find that there are items around the house you can repurpose for your craft room. If you're not sure where to start, here are some upcycle hacks to inspire you.
Reimagine an Entryway Wall Organizer
Wall-mounted organizers are useful for collecting important items like mail, keys and important notes. If you have an entryway organizer that isn't being used, consider bringing it into your craft room for a new purpose. Key hooks make perfect storage for scissors and other tools with looped handles. Shelves, message boards and cubbies will help you stay organized and on task. Attach the organizer to a wall in easy reach of your workstation so your tools are never far away.
Dress Up a Jewelry Stand
Jewelry organizers with dowels, arms or "fingers" for storing jewelry are perfect for some of your favorite craft supplies. Instead of taking up space on a dresser or in a closet, repurpose a jewelry stand to store things like spools of yarn, rolls of washi tape or to hang strings of beads. This upcycle hack takes up very little space and will keep some of your most important crafting supplies in a convenient location.
Fill Your Filing Cabinet
An empty or unused filing cabinet makes a perfect addition to a crafting space. Use regular file folders to sort and store flat goods like paper, stencils and scrapbook supplies. You can also use extra metal dividers to hang fabric scraps. Repurposing a filing cabinet will help you keep your delicate supplies safe and organized so you can find and use them easily when needed.
Even if you don't have these items in your home, use these ideas as a guide for finding new and clever ways to upcycle. You'll give old pieces new purpose and keep your craft room at its best.